The MPAI project called Multimodal Conversation (MPAI-MMC) has the ambitious goal to use AI to enable forms of human-machine conversation that emul­ate human-human conversation in completeness and intensity. This means that MMC will leverage all modalities that a human uses when talking to another human: of course, speech, but also text, face and gesture.
In the Conversation with Emotion use case of MMC V1 the machine activates different modules (in italic) to produce data (underlined) in response to a human:
Speech Recognition (Emotion) extracts

text

and

speech emotion

.
Language Understanding produces

refined text

, and extracts

meaning

and

text emotion

.
Video Analysis extracts

face emotion

.
Emotion Fusion fuses the 3 emotions into

fused emotion

.
Dialogue Processing produces

machine text

and

machine emotion

.
Speech Synthesis (Emotion) produces

speech

with

machine emotion

.
Lips Animation produces

machine face

(an avatar) with facial emotion and

lips in sync

with speech.
This is depicted in Figure 1.
Multimodal Conversation Version 2 (V2) intends to substantially improve MPAI-MMC V2 by adding Personal Cognitive State and Attitude to Emotion. The combination of the three is called Personal Status, the ensemble of information internal to a person. Emotion and Cognitive State are the result of an interaction with the environment, while Attitude is the stance for new interactions.
Figure 1 shows one component – Personal Status Extraction (PSE) – identified for MPAI-MMC V2. PSE, a Composite AIM containong other specific AIMs that describe modalities and interpret derscriptors, plays a fundamental role in human-machine conversation

Figure 1 – Personal Status Extraction
A second fundamental component – Personal Status Display – is depicted in Figure 2.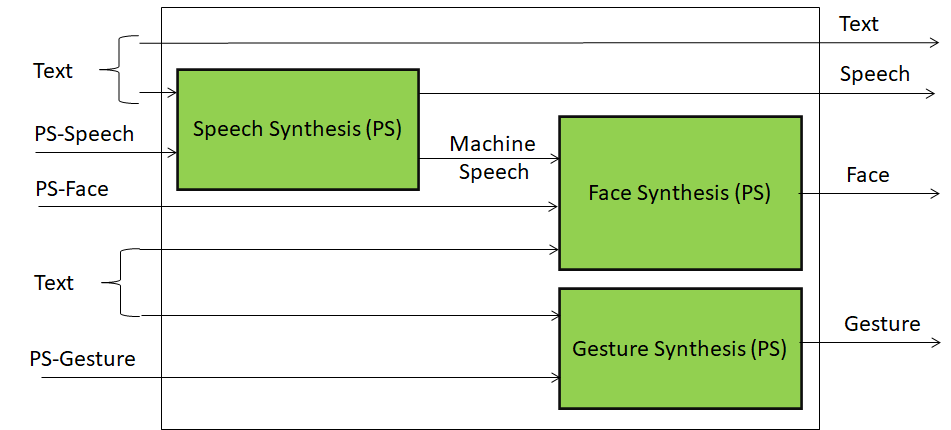 Figure 2 – Personal Status Description
---