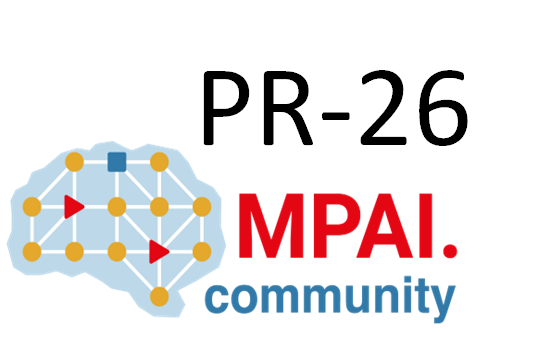 Geneva, Switzerland – 23 November 2022. Today the international, non-profit, unaffiliated Moving Picture, Audio and Data Coding by Artificial Intelligence (MPAI) standards developing organisation has concluded its 26th General Assembly (MPAI-26). MPAI is calling for new members to support the development of its work program.
Planned for approval in the first months of 2023 are 5 standards and 1 technical report:
The MPAI work plan also includes exploratory activities, some of which are close to becoming standard or technical report projects:
It is a good opportunity for legal entities supporting the MPAI mission and able to contribute to the development of standards for the efficient use of data to join MPAI now, also considering that membership is immediately active and will last until 2023/12/31.
Please visit the MPAI website, contact the MPAI secretariat for specific information, subscribe to the MPAI Newsletter and follow MPAI on social media: LinkedIn, Twitter, Facebook, Instagram, and YouTube.
Most importantly: please join MPAI, share the fun, build the future.
---